C.G. Laboratories, Inc. has been a leader in the decontamination of medical devices since 1998. We offer decontamination of your medical devices (including cadaver trays) or other products that have been contaminated and potentially exposed to pathogens. Your medical devices (including paperwork) are decontaminated such that everything returned to our customers is safe. The medical device can be rendered safe by the use of:
Ethylene Oxide Decontamination
Steam Decontamination
Gamma Radiation Decontamination
Liquids Decontamination
Custom Decontamination
C.G. Laboratories, Inc. maintains a validated Tracking Software System that monitors each shipment from the moment it arrives until it leaves our facility.
C. G. Laboratories, Inc. caters to our customer and to prove this, we provide fast turnaround times and custom requirements for decontamination.
There are many reasons for Decontamination.
One of the most frequent we find is as follows: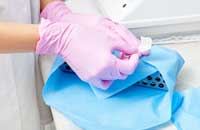 A device has malfunctioned in the field thus causing a customer complaint. An analyst needs to investigate the possible failure of this medical device. The device is contaminated and has the possibility of pathogens on it. This medical device requires decontamination before the analyst tests it.
There are several issues that can possibly arise from performing decontamination in-house.
The equipment/ facilities necessary to handle contaminated devices is costly. (biohazard safety cabinet, autoclave, ethylene oxide sterilizer).
Current personnel doesn't have the expertise or training to properly decontaminate these devices.
Resources to validate decontamination processes are lacking. (time, equipment, expertise).
The inconvenience decontamination causes in your laboratory.
You need different types of decontamination for different devices and it's complicated to keep all those resources on hand.
In-house decontamination just isn't cost effective.
Send all your contaminated medical devices to C. G. Laboratories, Inc. We have all the equipment necessary for decontaminating your medical devices including autoclaves, ethylene oxide sterilizers, and biohazard safety cabinets.
All of your contaminated devices can be shipped directly from the hospital or sales representative to C. G. Laboratories, Inc. and they return to your facility decontaminated. Products never arrive at your manufacturing facility contaminated.
Request Decontamination Information
Claudia Fron, Decontamination Manager
C.G. Laboratories, Inc.
1410 Southtown Dr.
Granbury, TX 76048
P: (817)279-1945 Ext. 6
Resources